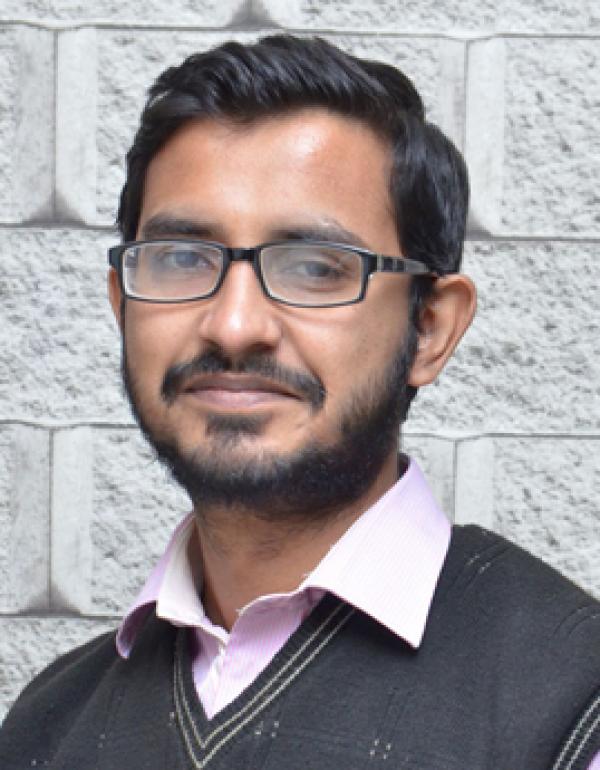 Contact Info
PABX:2620
email: saadkhan@neduet.edu.pk
Engr. Muhammad Saad Khan
Lecturer
Education
Phd Scholar (Earthquake Engineering), NEDUET
M.Engg. (Structural Engineering), NEDUET.
B.E. (Civil) NED
Biography
Saad graduated from Department of Civil Engineering at NED University in 2015. After serving as an Irrigation Design Engineer at Jaffer Agro Services he joined NED University as a Lecturer due to his interest in teaching. His area of specialisation is Structural Engineering. He is currently involved in his PhD Studies where he is evaluating experimental behaviour of Reinforced Concrete Columns under quasi-static reverse cyclic loadings.
In his masters thesis, saad worked on shear and flexural behaviour of recycled aggregate concrete beams where comparison with conventional concrete and adequacy of code formulation on recycled concrete was assessed.
Research Interest
image processing

recycled concrete

numerical modelling

reverse-cyclic behaviour of reinforced concrete members 
Affiliations
Registered Engineer, Pakistan Engineering Council (PEC) 

Department of Civil Engineering, NED University of Engineering & Technology.
Conference Publicaitons
M. K. Saad

and K. Fatima, "Comparison of Inelastic Modelling Techniques Using Static Pushover Analysis and NonLinear Time History Analysis," in First South Asia Conference on Earthquake Engineering (SACEE'19), Karachi, Pakistan., 2019.

K. Asad-ur-Rehman, M. K. Saad and F. Shamsoon, "Shear Behavior of Recycled Aggregate Concrete Beams," in 10th International Civil Engineering Conference (ICEC-2019), Karachi, Pakistan., 2019.
K. Asad-ur-Rehman, M. K. Saad and F. Shamsoon, "Use of Recycled Aggregates in Structural Concrete," in 5th International Conference on Sustainable Construction Materials and Technologies, London, UK., 2019.
Journal Publications
Khan, AuR., Khan, M.S., Fareed, S. et al. Structural Behaviour and Strength Prediction of Recycled Aggregate Concrete Beams. Arab J Sci Eng 45, 3611–3622 (2020). https://doi.org/10.1007/s13369-019-04195-w
Batool, F., Khan, M.S. & Bindiganavile, V. Characterization of 3D microstructure, thermal conductivity, and heat flow of cement-based foam using imaging technique. Front. Struct. Civ. Eng. 15, 643–651 (2021). https://doi.org/10.1007/s11709-021-0709-9
"Something remains only something unless you do something about it."